The DVD of MOTHERS & DAUGHTERS contains two half-hour dramas: "A Rainy Day" and "Summer's End," both dealing with mother-daughter issues.






To order with a Visa, Mastercard, American Express, Discover card, bank transfers, & debit cards go to our secure PayPal site by clicking "Add to Cart" button below.
The cost for one DVD is $12.98 plus S&H of $3.98, a total of $16.96.

FREE SHIPPING on DVD orders over $25.

To order by mail, send a check made out to Beth Brickell to:
Beth Brickell
14254 Weddington St.
Sherman Oaks CA 91401
Running time: 62 min, Year released: 2007

---
ORDER OTHER
DVDs and Books
---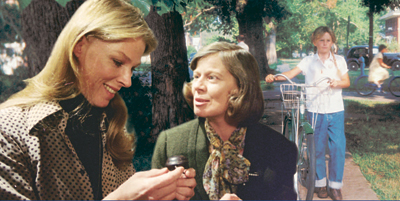 CREDITS

Starring: Mariette Hartley, Collin Wilcox, Tracey Gold, Eric Holland, Bill Vint, Radha Delamarter, Jennifer Miller, Jordan Weeks, Graham Timbes and Lisa Foster.

Written, Produced and Directed by Beth Brickell

AWARDS

First Prize, USA Film Festival (Dallas)
Top Winner, Indiana Film Festival
First Place, National Council on Family Relations
First Prize for Cinematography, Panama International Film Festival
Bronze Award, Houston International Film Festival
CINE Golden Eagle Award
CINE Eagle Award
Blue Ribbon, American Film & Video Festival (New York)
"Best US Short Fiction", Los Angeles International Film Festival
First Prize, National Association of Television Program Executives
First Prize, Corporation for Public Broadcasting Awards
First Prize, Athens (Ohio) International Film Festival
First Prize, Baltimore International Film Festival
Top Honor, Ohio State Awards
Gold Plaque, Chicago International Film Festival
Second Prize, Chicago International Festival of Children's Films
Second Prize, San Francisco International Film Festival
Second Prize, Aspen FilmFest
Second Prize, Columbus International Film Festival
Special Jury Award, Houston International Film Festival
Special Jury Award, USA Film Festival, Dallas
Golden Eagle, CINE
Selected Film, Association for Library Services