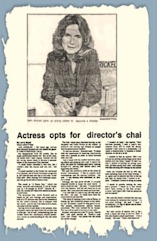 PRESS CLIPPINGS
Associated Press, June 10, 1981

"Actress Opts for Director's Chair"


"'A Rainy Day' contrasts two themes,' Brickell said. 'It deals with the conflict between pleasing others and pleasing one's self. It shows the price one pays for winning gold stars, making straight-A's, putting that before one's own happiness and needs."